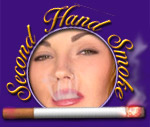 ALLIE: FILL MY MOUTH!
Allie is a sultry redhead, and this vid is an epic depiction of Allie giving smoky oral sex to her boyfriend.
It starts with Allie in a robe, smoking lazily on her bed and lightly touching herself; then her boyfriend arrives, and things heat up!
What follows is more than an hour of teasing and smoking oral action, shown from four different angles, some highlighting the smoke, others highlighting the sex. Allie first slowly undresses her boyfriend, blowing her smoke at him and teasing him with the smoke as she licks and kisses him.
And then comes the full-blown (pardon the pun!) oral sex! Allie is equally proficient at both smoking and giving head; chaining VS 120s, she takes deep drags before going down deep, with the smoke often seeping out as she does. And the vid finishes, as you'd expect, with Allie's mouth full of two different white substances. You'll get almost as hot as Allie's boyfriend, as you watch!
Nudity and sexual content. 1 hour, 29 minutes. SALE! NOW JUST $25.00!
TO ORDER THIS VIDEO IN NTSC (US/CANADA) FORMAT, CLICK HERE:
TO ORDER THIS VIDEO IN PAL (EUROPE/ASIA/AUSTRALIA) FORMAT, CLICK HERE:
OR...
PURCHASE THIS VIDEO FOR IMMEDIATE DOWNLOAD, AT
Smoking Flicks!