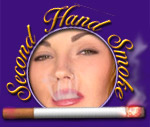 ANDREA: SMALL PACKAGE!
When someone once said "good things come in small packages" - they must have been watching 4 foot, 11 inch tall Andrea - a sexy black smoker with a Valley girl accent!
Andrea starts out tamely, smoking while relaxing on the floor in a short sundress. The dress doesn't stay on for long, though, as she gets naked for an interview about her interesting smoking history - she's a late bloomer, who started after meeting a smoking friend on the internet! Still naked, Andrea enjoys another cigarette in the bathroom while putting on her makeup.
The second half of the video shows Andrea as the kind of woman many fantasize about. She wakes up in bed, and immediately reaches for her cigarettes, lighting up as soon as she opens her eyes. As she wakes up more, she decides that she'd rather not get out of bed just yet - she reaches again, this time for her vibrator, and smokes several more cigarettes as she works herself to a noisy climax!
Andrea smokes Camel Filters (her normal brand) throughout the video, with deep drags, a nice small natural snap, and primarily thick mouth exhales. The continuous action is shown from multiple camera angles, with ambient sound that lets you hear the smoking, the vibrator, and the moans!
Andrea won't be the only one climaxing when you watch this one!
Nudity and masturbation. 1 hour.
SALE! NOW JUST $25.00!
TO ORDER THIS VIDEO ON DVD, CLICK HERE:
TO ORDER THIS VIDEO IN NTSC (US/CANADA) FORMAT, CLICK HERE:
TO ORDER THIS VIDEO IN PAL (EUROPE/ASIA/AUSTRALIA) FORMAT, CLICK HERE:
OR...
PURCHASE THIS VIDEO FOR IMMEDIATE DOWNLOAD, AT
Smoking Flicks!