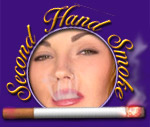 RETURN OF THE BABYSITTER!
How does this one hit you: a smoking woman seduces a hot teen smoking girl? We sure liked the idea!
Sexy Midnite Isis comes home from school to find an old friend waiting for her - Rubee Tuesday, who used to babysit for Isis when she was much younger. And as we learn, Rubee taught Isis to smoke when babysitting for her. But now, she has more than just smoking on her mind! They start by smoking and chatting, catching up and reminiscing about those long-ago smoking lessons, but Rubee ("now that you're 18!") doesn't wait long to start putting the moves on Isis.
They get partially naked, for some smoky kissing, shotguns and foreplay; then the rest of the clothes come off and three vibrators come out. Rubee and Isis take turns working on each other while chaining - Rubee uses two of the vibrators simultaneously on Isis, and Isis then uses the third on Rubee - to smoky climaxes, and then they have a smoky cuddle afterward.
The scenes are shown from multiple angles, and the smoking is strong, with deep drags and thick (mostly mouth) exhales, and there's plenty of sexy dialogue.
Hot lesbian smoking sex with a nasty teen and her former babysitter - what more could you ask for?
Nudity and lesbian sex. 1 hour, 1 minute. SALE! NOW JUST $25.00!
TO ORDER THIS VIDEO ON DVD, CLICK HERE:
TO ORDER THIS VIDEO IN NTSC (US/CANADA) FORMAT, CLICK HERE:
TO ORDER THIS VIDEO IN PAL (EUROPE/ASIA/AUSTRALIA) FORMAT, CLICK HERE:
OR...
PURCHASE THIS VIDEO FOR IMMEDIATE DOWNLOAD, AT
Smoking Flicks!