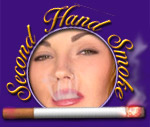 RETURN OF THE BABYSITTER 2!
Barely-legal Midnite Isis and her former babysitter Rubee Tuesday
(who originally taught Isis to smoke, and in "Babysitter 1" taught her about girl-girl
smoking sex) are back - and this time, the action is hotter than ever!
Dressed in sexy outfits with lots of latex and leather, the
two chat about Isis's sex life - and when Rubee finds out that
Rubee has never given her boyfriend a smoking blow job,
it's time for yet another lesson!
First, Rubee demonstrates her technique on a toy -
but then asks if Isis would mind sharing in real life -
and Isis readily agrees! When her boyfriend shows up,
he gets the smoky double-team of his life, with Rubee first
demonstrating technique, and then rooting Isis on (and bathing the action
in smoke) as the three move to an explosive finish!
The smoking is excellent, the two-on-action (shown from
multiple angles) is hot, and everyone
(including the viewer) comes away satisfied!
Nudity and sexual content.
Dialogue and ambient sound. 58 minutes. SALE! NOW JUST $25.00!
TO ORDER THIS VIDEO ON DVD, CLICK HERE:
TO ORDER THIS VIDEO IN NTSC (US/CANADA) FORMAT, CLICK HERE:
TO ORDER THIS VIDEO IN PAL (EUROPE/ASIA/AUSTRALIA) FORMAT, CLICK HERE:
OR...
PURCHASE THIS VIDEO FOR IMMEDIATE DOWNLOAD, AT
Smoking Flicks!