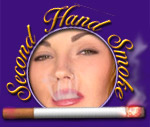 INTRODUCING BRIANNA!
Our newest model, Brianna, is a sultry blonde - who loves to get naked and nasty!
This video starts with Brianna relaxing casually on the couch with a cigarette, in t-shirt and
sweatpants. But it doesn't take long for her to get the itch to play with herself - and the clothes come off
in relatively short order, as she touches herself while topless, then takes off the pants for some
light mastrubation, and then some furious action with the vibrator, for a noisy climax!
The scene then switches - Brianna is back relaxing on the couch again, this time
in leather vest and pants. But the urge hits again, and before we know it, she's peeling off her
clothes again, for some even more furious masturbation, this time using two vibrators
(in between drags, of course) to bring herself to another noisy finish!
Brianna smokes Marlboro Lights 100s (with a "break" for one Marlboro 100)
non-stop in this video, chain-lighting them several times, with thick cone exhales.
The only thing she craves more than her vibrator - is her cigarettes!
Nudity and sexual content. 1 hour, 28 minutes. SALE! NOW JUST $25.00!
TO ORDER THIS VIDEO ON DVD, CLICK HERE:
TO ORDER THIS VIDEO IN NTSC (US/CANADA) FORMAT, CLICK HERE:
TO ORDER THIS VIDEO IN PAL (EUROPE/ASIA/AUSTRALIA) FORMAT, CLICK HERE:
OR...
PURCHASE THIS VIDEO FOR IMMEDIATE DOWNLOAD, AT
Smoking Flicks!