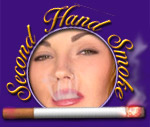 BRIANNA: SMOKIN' HOT!
Brianna is back - and this time, she's out to show that she
not only loves to play with herself while she smokes,
she loves to show off her smoking talents while she does it!
First, Brianna touches and plays as she does an entire scene
of nose exhales - then, she's back for more, but this time, with all dangles!
One cigarette just isn't enough for Brianna, though, as she
does a full scene of playing while smoking two VS 120s -
and finally, she decides she needs even more, and
touches herself while smoking three Marlboro Light 100s at once!
Whether you're a fan of hardcore smoking, a fan of
hardcore action, or both - you'll love Brianna's smoky show!
Nudity and sexual content. 57 minutes. SALE! NOW JUST $25.00!
TO ORDER THIS VIDEO ON DVD, CLICK HERE:
TO ORDER THIS VIDEO IN NTSC (US/CANADA) FORMAT, CLICK HERE:
TO ORDER THIS VIDEO IN PAL (EUROPE/ASIA/AUSTRALIA) FORMAT, CLICK HERE:
OR...
PURCHASE THIS VIDEO FOR IMMEDIATE DOWNLOAD, AT
Smoking Flicks!