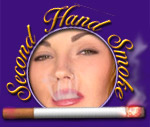 CAITLIN: LUCKY STRIKE GIRL
Just 18, Caitlin called Second Hand Smoke asking if she could do a video. "I chain smoke Lucky Strikes," she said, "I smoke at least two packs a day and love to french inhale." Well, it was all true!
In this video she powers through her Lucky Strikes, often finishing them off in under two minutes each. She french inhales many of her hits, with nice thick streams from her mouth to her nose, before exhaling thick plumes. There are also many double pumps, and her cigarettes all get smoked to the filter. ("I especially love the taste near the filter - it's when they start to get good!")
There are also lots of "right at you" exhales, dangles and open mouth inhales in this video! she started smoking at 12 and hasn't looked back. For all-white lovers, she also smokes Capri120s in the video, dragging long and deep on them to get the same satisfaction as she does from her Luckies.
So if the look of an 18 year old, 5' 11" beauty powering through cigarette after cigarette is your idea of a good time, you'll want to check this one out!
45 minutes. SALE! NOW JUST $25.00!
TO ORDER THIS VIDEO IN NTSC (US/CANADA) FORMAT, CLICK HERE:
TO ORDER THIS VIDEO IN PAL (EUROPE/ASIA/AUSTRALIA) FORMAT, CLICK HERE: