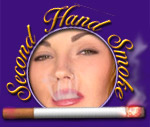 THE COCO AND MINA TRILOGY!
Coco and Mina are two typical California valley girls -
except for the fact that Mina is Hispanic,
and Coco is the African-American daughter of Rastafarians!
And now, you can get ALL THREE of their Second Hand Smoke videos -
almost FOUR HOURS of great smoking and smoke talk -
for one incredibly low price!
In "Introducing Coco and Mina," they alternate scenes, shot both indoors and outdoors. And even though only one girl is on camera at a time, the duo talks about smoking in about half the video. Mina shows a nice mix of thick cone exhales with some frenches, small snaps and dangling. Coco's style is unique; at first you may think that she's not inhaling some of her drags, but as you see how much residual smoke comes out of her, you realize that she's direct inhaling, and may have developed her style from having grown up around ganja. She shows straightforward and drifting exhales, wafts, nose exhales and some dangling as well.
There's also one other interesting twist for several scenes - a "voyeur cam" which watches Mina and Coco smoke through their bedroom window. The edited video lasts more than an hour; the best three scenes are then repeated, shown in their entirety from another angle.
"Best Friends 1" begins with a standard "interview" scene, but a lot of the dialogue was removed (because it got TOO personal). The dialogue, most of it about smoking, continues through the rest of the vid, with the girls sharing two cigarettes while Mina helps Coco with her makeup, and then as they relax outdoors on their balcony and in the bedroom.
In "Best Friends 2," we see the duo in four settings: chatting and smoking on the bed (the voyeur cam makes a reappearance here, staring in through the girls' window); chatting and smoking in colorful kimonos before getting into the tub; and then twice in the tub, the second scene including a bubble bath and some playing with balloons.
Get ALL THREE VIDEOS for one incredibly low price!
These models are cuties and interesting smokers - and their vids are California cool!
No sex or nudity. Total running time: 3 hours, 54 minutes. SALE! NOW JUST $25.00!
TO ORDER THIS VIDEO IN NTSC (US/CANADA) FORMAT, CLICK HERE:
TO ORDER THIS VIDEO IN PAL (EUROPE/ASIA/AUSTRALIA) FORMAT, CLICK HERE: