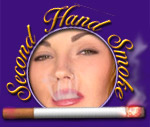 DANCE PARTY!
This may be the hottest video we've ever released -
and there isn't even any nudity!
We threw a small dance party.
And the only requirement for girls to get in, was that they had to be
attractive, young, and smokers!
More than a dozen girls who fit the bill came to our party .
They were told to have a good time, dance --- and smoke up a storm.
And they sure did!
What you'll see is simply edited footage as our cameras
tracked the action, trying to keep up with all the smoking.
It wasn't easy at times, since there was so much incredible action, and
the fact that the girls were dancing made things a little tougher for the
cameras to keep up with them. But we think you'll agree - the final product
is some of the greatest real-life smoking footage ever.
You won't see a lot of fancy smoking tricks - the girls
were way too busy dancing and having a great time.
But every single girl was a serious smoker, many of them
chain-smokers, so you'll see tons of deep drags and thick exhales -
and some of the sexiest smoking footage ever.
More than a dozen hot girls smoking non-stop at a dance party -
how much better can it get?
39 minutes. SALE! NOW JUST $25.00!
TO ORDER THIS VIDEO ON DVD, CLICK HERE:
TO ORDER THIS VIDEO IN NTSC (US/CANADA) FORMAT, CLICK HERE:
TO ORDER THIS VIDEO IN PAL (EUROPE/ASIA/AUSTRALIA) FORMAT, CLICK HERE:
OR...
PURCHASE THIS VIDEO FOR IMMEDIATE DOWNLOAD, AT
Smoking Flicks!