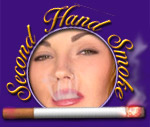 DANCE PARTY: SPOTLIGHTS!
So you watched our video from the
smoking-and-dancing party, and you had a few favorite girls -
but were frustrated because you couldn't see enough of them
when the camera moved around the room to someone else?
Here's your video!
This is all-new, never-before-seen footage from
our dance party with more than a dozen beautiful smokers.
But this time, the camera focuses on each girl for an
extended period, as she dances and smokes solo, in
the spotlight!
The feel and ambience is the same - and the
smoking remains terrific, with each girl taking deep drags
and normally showing thick mouth or occasional nose exhales
as she smokes and just has fun!
The only way we could think of to follow-up the
Dance Party video - was to show the same sexy girls in
all their glory, one at a time. We think you'll agree that
it's well worth checking out!
51 minutes. SALE! NOW JUST $25.00!
TO ORDER THIS VIDEO ON DVD, CLICK HERE:
TO ORDER THIS VIDEO IN NTSC (US/CANADA) FORMAT, CLICK HERE:
TO ORDER THIS VIDEO IN PAL (EUROPE/ASIA/AUSTRALIA) FORMAT, CLICK HERE:
OR...
PURCHASE THIS VIDEO FOR IMMEDIATE DOWNLOAD, AT
Smoking Flicks!