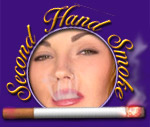 DANCE PARTY: BACK ROOM!
When we filmed our dance party videos, we made
arrangements with several adult performers to shoot with us
in the same venue, after the party was over. They would
"chaperone" the younger dancers - and then, when the dance
ended, the hardcore shoot would start.
But the adult performers couldn't wait! They found
a back room and started playing - and the action was too
good to pass up. So we rushed a camera and a few lights
into the back room and captured that action, and then we
filmed, as planned, some hardcore footage after the dance.
So this video has a mix of "planned" and "unplanned"
smoky sex scenes - the look is a bit raw, since we lost control of
the situation - but we think the outcome was definitely worth it!
The video opens with a boy/girl set, that includes flirting,
foreplay, and hardcore sex to completion while smoking;
next is a hot girl/girl scene which again starts with flirting,
moves on to touching and kissing, and
finishes up with oral sex (with both women smoking throughout);
finally there's another boy/girl scene which
features primarily smoky oral and hardcore sex (again to completion).
The women smoke almost continuously (and well) throughout this video,
the overall video look is a bit dark and times, but that makes for some
excellent exhale shots (except in the final scene, where the woman
is more prone to wafting after her inhales).
This is not one of those scripted videos where everyone takes
time to make sure the outfits, props and costumes are "just right."
For the most part, it's raw smoking and sex - and we're pleased
we were able to capture it!
Nudity, hardcore and lesbian sex.
Ambient sound and some music. 58 minutes. SALE! NOW JUST $25.00!
TO ORDER THIS VIDEO ON DVD, CLICK HERE:
TO ORDER THIS VIDEO IN NTSC (US/CANADA) FORMAT, CLICK HERE:
TO ORDER THIS VIDEO IN PAL (EUROPE/ASIA/AUSTRALIA) FORMAT, CLICK HERE:
OR...
PURCHASE THIS VIDEO FOR IMMEDIATE DOWNLOAD, AT
Smoking Flicks!