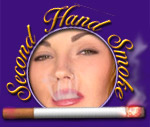 DEVON!
Devon is a young, uninhibited alterna-chick who loves her cigarettes.
In this video, we not only get to watch this pixie-ish girl smoke, but we
learn about her smoking history - as well as the many teenaged girls
(also smokers) who she's dated! (That's right, she likes girls, too!)
The vid begins with Devon having several cigarettes on
the couch; she also goes into detail on how she started smoking
very young. She then changes to a schoolgirl look with pigtails -
telling us about her smoking throughout high school. And
as she tells us about sneaking out to smoke during her younger years,
we see a "flashback," as she re-enacts exactly how she used to do it!
The video ends with a sexy lingerie smoking scene -
and the promise of more to come!
Desipite her age, Devon has obviously been smoking
for many years, with deep inhales and a natural mouth/nose
combination exhale, plus some nose-only exhales as she
smokes 100s and 120s.
For those who like great dialogue with their smoking,
this is a winner!
53 minutes. SALE! NOW JUST $25.00!
TO ORDER THIS VIDEO ON DVD, CLICK HERE:
TO ORDER THIS VIDEO IN NTSC (US/CANADA) FORMAT, CLICK HERE:
TO ORDER THIS VIDEO IN PAL (EUROPE/ASIA/AUSTRALIA) FORMAT, CLICK HERE:
OR...
PURCHASE THIS VIDEO FOR IMMEDIATE DOWNLOAD, AT
Smoking Flicks!