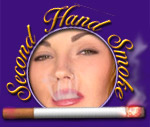 DEVON AND JADE: STRIPPING AND PLAYING!
Our young alterna-chick and our young fetish model
are back - and they have more than just smoking on their minds!
The video opens with pixie Devon in lingerie and fishnets;
she has two cigarettes as she slowly strips to just the stockings,
teasing the viewer and touching herself all over. She then
lights up again, and works herself with her fingers while smoking!
Devon's inhales are deep and her exhales are thick cones, and
her pleasure is evident!
Next comes fetish model Jade Bond - she opens in
fur and lingerie, and as she has two cigarettes, she slowly
strips, first losing the fur and then the lingerie. Then, it's time
for two more cigarettes - and a vibrator - as she smokes non-stop
while working herself hard with the vibrator!
There's also a bonus scene, with Jade enjoying a More 120
while in her fur and stockings. Her smoking is outstanding throughout,
with deep drags, and huge, luscious nose or mouth exhales.
Two great smokers stripping and playing - it's a winner!
61 minutes. SALE! NOW JUST $25.00!
TO ORDER THIS VIDEO ON DVD, CLICK HERE:
TO ORDER THIS VIDEO IN NTSC (US/CANADA) FORMAT, CLICK HERE:
TO ORDER THIS VIDEO IN PAL (EUROPE/ASIA/AUSTRALIA) FORMAT, CLICK HERE:
OR...
PURCHASE THIS VIDEO FOR IMMEDIATE DOWNLOAD, AT
Smoking Flicks!