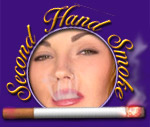 ECHO VIBE: IN MY FACE!
Echo Vibe is the latest heavy-smoking,
up-and-coming porn star (she's been called the "hippie porn star")
to make a smoking vid exclusively for Second Hand Smoke!
This blonde bombshell starts out smoking a
cigarette, trying to deal with her boredom by
playing with the smoke.
But her man eventually shows up, and after
teasing him a bit (while smoking, naturally), she gives him
long and expert smoky oral sex!
We see Echo doing her oral work in three
different positions, finally smoking furiously as she takes his load...
well, you can guess where, from the title of this vid!
Echo's smoking is strong, and she knows just how
to take a deep drag before filling her mouth with her man -
and it's obvious the only thing she likes in there more...
is a mixture of smoke and cum!
Nudity and sexual content. 50 minutes. SALE! NOW JUST $25.00!
TO ORDER THIS VIDEO ON DVD, CLICK HERE:
TO ORDER THIS VIDEO IN NTSC (US/CANADA) FORMAT, CLICK HERE:
TO ORDER THIS VIDEO IN PAL (EUROPE/ASIA/AUSTRALIA) FORMAT, CLICK HERE:
OR...
PURCHASE THIS VIDEO FOR IMMEDIATE DOWNLOAD, AT
Smoking Flicks!