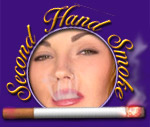 FANTASIA FANTASIES: 164s! - part one
Fantasias were the most elegant cigarette ever made -
164mm long, with gold filters and pastel colors -
and they were not slims - they were full-sized, full flavor cigarettes
for women who wanted to enjoy a real smoke and make a statement.
Nat Sherman stopped making them almost 10 years ago.
But we still have some - exclusively for the use of Second Hand Smoke models!
In this video, you'll see Penthouse Pet of the Month Martina Warren,
along with Mellissa and Catrina, enjoying ultra-long, ultra-feminine
Fantasia 164s. They're all in evening dress - the way Fantasias were
meant to be smoked.
And you'll see terrific smoking style as well; sophisticated mouth and
nose exhales from Martina, french inhales as well as nose and mouth/nose
exhales from Mellissa, and the same from Catrina, who also adds some
snaps and some nice smoke rings.
Sadly, you won't see glamorous women, out for the evening,
smoking Fantasias any longer. But you can either re-live the past, or see
what you missed, in this sexy video!
No sex or nudity. 57 minutes. SALE! NOW JUST $25.00!
TO ORDER THIS VIDEO ON DVD, CLICK HERE:
TO ORDER THIS VIDEO IN NTSC (US/CANADA) FORMAT, CLICK HERE:
TO ORDER THIS VIDEO IN PAL (EUROPE/ASIA/AUSTRALIA) FORMAT, CLICK HERE: