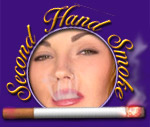 VIKTORIA AND CHRISTINA - AROUND THE HOUSE!
Now available on DVD!
Over the years, we've gotten lots of requests for a video portraying heavy smokers in their "natural" setting at home - smoking during their normal daily routine. That's what "Around the House" is all about.
Viktoria and Christina are two friends who've just moved in together, and here we see them smoking in their daily lives. First, the duo has morning tea and cigarettes while chatting (about smoking and other things), then we see Christina smoking while she eats (an often-requested scene), followed by Viktoria cleaning up the kitchen while she smokes.
The pair plans an evening out, and we see Christina smoking while putting on her makeup. Then comes a scene that's also often requested by those who love women who can hardly ever go without a cigarette: we watch Viktoria smoking while taking a shower! Finally, the two chat while having another cigarette, as Christina finishes her makeup and Viktoria dries off and puts on lotion.
A great vid for fans of women who smoke all the time -
no matter what they're doing!
Nudity. 59 minutes.
SALE! NOW JUST $25.00!
TO ORDER THIS VIDEO ON DVD, CLICK HERE:
TO ORDER THIS VIDEO IN NTSC (US/CANADA) FORMAT, CLICK HERE:
TO ORDER THIS VIDEO IN PAL (EUROPE/ASIA/AUSTRALIA) FORMAT, CLICK HERE:
OR...
PURCHASE THIS VIDEO FOR IMMEDIATE DOWNLOAD, AT
Smoking Flicks!