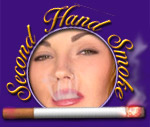 JADE BOND: FETISH STYLE!
Jade Bond is a sultry 19-year old who has already
made a name for herself as a mainstream fetish model.
But she also happens to be a heavy and dedicated smoker,
who was more than happy to show off both of her talents
for Second Hand Smoke!
Jade begins the video with a lengthy and interesting monologue/interview
about her smoking, as she warms up with a VS 120 and shows nice
exhales with cone exhales.
But she really starts to shine when she appears in her second scene -
she models a sexy red and black corset; and as she talks about corsets and
fetish dress, her eyes shine, her drags get deeper and deeper, and we not only
nice cones, but thick and voluminous nose exhales as well.
She then switches to a beautiful antique corset, and that
seems to spark her smoking even more - as the inhales become even deeper
and the exhales even thicker. In her final scene she shows that the
antique corset can be worn without a bra as well - and her
topless smoking is even sexier!
Several times during the video, Jade tells us how perfectly
smoking goes with corsets and fetish outfits - and her performance, smoking
in her corsets, proves her point perfectly!
Partial nudity. 57 minutes. SALE! NOW JUST $25.00!
TO ORDER THIS VIDEO ON DVD, CLICK HERE:
TO ORDER THIS VIDEO IN NTSC (US/CANADA) FORMAT, CLICK HERE:
TO ORDER THIS VIDEO IN PAL (EUROPE/ASIA/AUSTRALIA) FORMAT, CLICK HERE:
OR...
PURCHASE THIS VIDEO FOR IMMEDIATE DOWNLOAD, AT
Smoking Flicks!