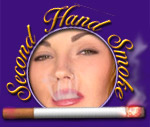 INTRODUCING JENNI LYNN!
Now available on DVD!
Some of you may remember Jenni Lynn from the website she ran a number of years ago.
But we're pleased to be able to offer this sexy blonde smoker on video!
We see Jenni Lynn enjoying her Marlboro Lights 100s, and her body, in four different scenes
in this video. She starts while waiting for her boyfriend, having a cigarette and slowly
undressing, then having a second smoke while working herself with her vibrator!
Her boyfriend arrives and immediately starts performing oral sex -
while Jenni Lynn smokes, plays with her breasts, and reaches her second
smoky climax!
Jenni Lynn's not anywhere near done yet, though - as she spreads out
on the couch, switches to Marlboro 100s, and pulls out the vibrator again,
with lots of dangles as she comes a third time!

Finally, her boyfriend is ready for more action, as
they go at it doggie-style, with Jenni Lynn still smoking up a storm!

Jenni Lynn is one of those smokers who takes very deep
drags and holds them in to let the smoke seep into her lungs
before exhaling - so her cone and dangling exhales aren't quite as
voluminous as some models we've filmed. But her inhales,
and her obvious enjoyment of her cigarettes and the sex,
make this a red-hot vid!
Nudity, masturbation, sex. 61 minutes.
SALE! NOW JUST $25.00!
TO ORDER THIS VIDEO ON DVD, CLICK HERE:
TO ORDER THIS VIDEO IN NTSC (US/CANADA) FORMAT, CLICK HERE:
TO ORDER THIS VIDEO IN PAL (EUROPE/ASIA/AUSTRALIA) FORMAT, CLICK HERE:
OR...
PURCHASE THIS VIDEO FOR IMMEDIATE DOWNLOAD, AT
Smoking Flicks!