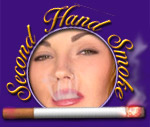 JENNI LYNN: ORAL FUN!
Jenni Lynn is back, for a no-frills, straightforward
smoking and manual/oral sex video.
Jenni Lynn smokes VS 120s in this one, and first, she gets
herself ready for her boyfriend, smoking and lightly touching herself
through her bra. Then it's time for the fun part -
as we see a marathon smoking hand-job and then
smoking blow-job, until Jenni is smoked out and her
boyfriend is done, too!
The action is shown from several angles, with lots of
thick cone exhales, and lots of closeups on the smoking and sex.
This is what a sexy blonde does when she knows how
to combine two of the best things in life!
Nudity and sexual content. 60 minutes. SALE! NOW JUST $25.00!
TO ORDER THIS VIDEO ON DVD, CLICK HERE:
TO ORDER THIS VIDEO IN NTSC (US/CANADA) FORMAT, CLICK HERE:
TO ORDER THIS VIDEO IN PAL (EUROPE/ASIA/AUSTRALIA) FORMAT, CLICK HERE:
OR...
PURCHASE THIS VIDEO FOR IMMEDIATE DOWNLOAD, AT
Smoking Flicks!