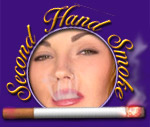 JESSI: CALIFORNIA BEAUTY!
Jessi is the most beautiful, and perhaps the sexiest, model we've ever filmed - a true California beauty, with pouty lips and a look that reminds us at times of Traci Lords. Couple that with terrific smoking, and you have a "must-see" video!
In this vid, Jessi starts off smoking informally, in a green top, jeans and bare feet, as she talks a bit about her smoking history. She then shifts to a stunning leopard-print dress and leather boots, before changing into a classy black dress and moving to the bar for a glass of wine.
In the second half of the video, Jessi's getting ready to relax in the hot tub; she strips to her black bra and panties as she enjoys a cigarette while running the water in the tub - undresses in front of her mirror, admiring her nude body while she smokes - and finally, brings her cigarettes into the tub as enjoys a bubble bath.
Jessi's smoking is accomplished, with deep inhales (including lots of hands-free inhales), thick stream exhales, dangles and double drags, as well as an assortment of nose exhales, frenches and rings mixed in, shown from several different angles with terrific lighting. She smokes a variety of brand, including VS 120s.
We can't over-emphasize how sexy this video is - this is the gorgeous smoking model you've always dreamed of meeting!
Full nudity. 1 hour, 27 minutes. SALE! NOW JUST $25.00!
TO ORDER THIS VIDEO IN NTSC (US/CANADA) FORMAT, CLICK HERE:
TO ORDER THIS VIDEO IN PAL (EUROPE/ASIA/AUSTRALIA) FORMAT, CLICK HERE:
OR...
PURCHASE THIS VIDEO FOR IMMEDIATE DOWNLOAD, AT
Smoking Flicks!