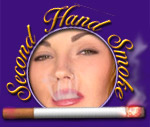 JULIANA KINCAID: ORAL GIRL!
Here's what "Talking Blue" says about one of the
beautiful new stars on the porn scene:
"With her wide, toothy grin, Juliana Kincaid seems born for oral sex,
and she certainly lives up to the promises her mouth makes."
But they've never seen her giving smoky oral sex -
in fact, no one has --- until now!
In her first smoking video, exclusive for Second Hand Smoke, porn star Juliana Kincaid
mixes her fabulous oral skills - with terrific smoking!
The video starts with Juliana impatiently waiting for her boyfriend -
but that gives her time to smoke a VS 120 and show off
her impressive smoking skills - rapid-fire drags with
sexy slow, thick mouth, nose and combined exhales.
Her boyfriend finally shows, and Juliana doesn't waste any time.
She starts with a few exhales right in his face, as she undresses him,
and then begins a incredible display of smoky oral sex,
which ends in a very messy climax!
The action is shown from several angles, including some
great close-up shots. And for the many porn fans who've only enjoyed
seeing Juliana in action without a cigarette, all we can say is
that they don't know what they're missing!
Nudity and sexual content. 54 minutes. SALE! NOW JUST $25.00!
TO ORDER THIS VIDEO ON DVD, CLICK HERE:
TO ORDER THIS VIDEO IN NTSC (US/CANADA) FORMAT, CLICK HERE:
TO ORDER THIS VIDEO IN PAL (EUROPE/ASIA/AUSTRALIA) FORMAT, CLICK HERE:
OR...
PURCHASE THIS VIDEO FOR IMMEDIATE DOWNLOAD, AT
Smoking Flicks!