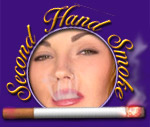 JULIANA KINCAID: TAKIN' IT IN DEEP!
Porn star Juliana Kincaid, who's already shown her
smoky oral talents, returns in another Second Hand Smoke video.
She's still a dedicated smoker who loves her deep inhales - but this time
she's ready to take her boyfriend in deep, too!
It's obvious what's on Juliana's mind; as soon as her guy
shows up, she wastes no time - she doesn't even take the time
to get comfortable - she bends right over the pool table
for the start of a marathon smoking-and-sex session!
Juliana smokes her ML 100s non-stop, with deep drags
and thick exhales, as they go at it doggy-style, reverse-cowgirl
and missionary - before returning to doggy for the noisy finish!
The action is shown from several angles, and it's red hot -
smoking sex at its best!
Nudity and sexual content. 44 minutes. SALE! NOW JUST $25.00!
TO ORDER THIS VIDEO ON DVD, CLICK HERE:
TO ORDER THIS VIDEO IN NTSC (US/CANADA) FORMAT, CLICK HERE:
TO ORDER THIS VIDEO IN PAL (EUROPE/ASIA/AUSTRALIA) FORMAT, CLICK HERE:
OR...
PURCHASE THIS VIDEO FOR IMMEDIATE DOWNLOAD, AT
Smoking Flicks!