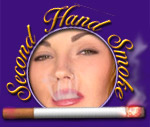 KELI: ORAL PLEASURE!
A very hot blonde (who reminds us at times of Virginia Madsen!) with the ultimate smoking blow job! Keli A. chainsmokes Newport 100s throughout this video - and she not only shows that she knows how to smoke, she also shows that she knows how to give smoky head with the best!
This vid starts with Keli on her bed, relaxing and slowly stripping down to garter belt and stockings, as she drags deep on her Newport 100s (with mostly thick mouth/nose combined exhales, and some double drags) and starts touching herself all over. Her boyfriend arrives, and after teasing him for a bit by blowing smoke on his fly, she has him lie down, takes his pants down, and starts bathing him in smoke. She goes through two more cigarettes, giving head, before having him stand up for a few more cigarettes, some fabulous oral sex, and a messy, smoky climax!
Keli is different from those models who make smoky oral sex two separate processes (you know the ones we mean - they make the smoking seems totally divorced from the sex). She inhales very deeply, sometimes taking two inhales, and immediately goes down on her man...so that the smoke is forced out through her nose in two thick, never-ending streams as she gives head - sometimes the smoke seeps out around the organ from her mouth as well. It's the way it's supposed to be done, and Keli does it to perfection!
This is grade-A video - don't miss it!
Nudity and oral sex. 1 hour, 10 minutes. SALE! NOW JUST $25.00!
TO ORDER THIS VIDEO ON DVD, CLICK HERE:
TO ORDER THIS VIDEO IN NTSC (US/CANADA) FORMAT, CLICK HERE:
TO ORDER THIS VIDEO IN PAL (EUROPE/ASIA/AUSTRALIA) FORMAT, CLICK HERE:
OR...
PURCHASE THIS VIDEO FOR IMMEDIATE DOWNLOAD, AT
Smoking Flicks!