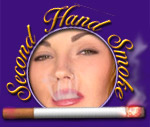 KELI A. RETURNS!
This video features the return of Keli A. - the petite blonde whose
smoking oral sex video has become legendary!
To be totally honest, the scenes in this vid were shot around
the same time as that video, and are a bit raw - we were holding them
waiting to be able to make several more complete videos with Keli.
But since she hasn't shot with us again, we decided the scenes
we were holding were definitely worth sharing!
The video opens with Keli in a very hot black latex and PVC outfit,
powering through a VS 120 as she feels her outfit and talks about how
she loves leather and other shiny stuff.
Next come two scenes shot together - in the first, Keli strips from a
leather jacket, and dress to become totally nude as she smokes a Capri 120,
and then smokes a Marlboro Light 100 as she puts on a cute outfit with
tiny white top and jumper. Throughout, she talks to an unseen boyfriend,
teasing him about how she's smoking the brands he likes, and wearing
the type of clothes he likes. The scenes are also seen from a different
angle, with just the inhales and exhales.
Finally, Keli returns to her beloved Newport 100s as she has
two cigarettes while driving. She gets progressively more horny as she drives
and smokes, and during the second cigarette she also begins touching herself.
She then pulls over so that she can get a little more serious, pulling
her top down and touching her breasts. (To everyone's disappointment,
including Keli's, the shoot had to be interrupted at this point, as a security guard
started heading toward the car!)
In all of her scenes, Keli shows huge inhales and enormous
cone exhales (with an occasional mouth/hose exhales) - even though
she loves her Newports best, she loves showing off and smoking
almost anything --- and it shows!
Nudity and sexual content. 55 minutes. SALE! NOW JUST $25.00!
TO ORDER THIS VIDEO ON DVD, CLICK HERE:
TO ORDER THIS VIDEO IN NTSC (US/CANADA) FORMAT, CLICK HERE:
TO ORDER THIS VIDEO IN PAL (EUROPE/ASIA/AUSTRALIA) FORMAT, CLICK HERE:
OR...
PURCHASE THIS VIDEO FOR IMMEDIATE DOWNLOAD, AT
Smoking Flicks!