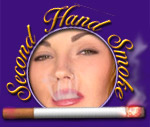 KELLY O'DELL AND CATRINA: PLAYING GAMES!
Legendary porn star Kelly O'Dell and her friend Catrina
(who also makes adult films) play two kinds
of games in this smoky vid.
They start out playing pool (while smoking, of course) -
but decide to make it more interesting, by making it
a game of strip pool. And it doesn't take long before they're
both playing naked.
After the game is over, they move right into a different sort of game -
girl-girl smoking and sex play. Smoky kisses and shotguns, blowing
smoke on each other, and finally using vibrators and dildos on each
other, all while smoking non-stop, of course!
The action is shown from multiple angles,
to capture both the smoking and the girl-girl play.
The smoking is great, and the action is hot!
Nudity and sexual content. Dialogue. 60 minutes. SALE! NOW JUST $25.00!
TO ORDER THIS VIDEO ON DVD, CLICK HERE:
TO ORDER THIS VIDEO IN NTSC (US/CANADA) FORMAT, CLICK HERE:
TO ORDER THIS VIDEO IN PAL (EUROPE/ASIA/AUSTRALIA) FORMAT, CLICK HERE:
OR...
PURCHASE THIS VIDEO FOR IMMEDIATE DOWNLOAD, AT
Smoking Flicks!