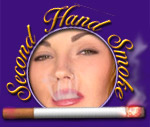 EASTERN EUROPEAN SMOKERS: LAVINIA AND CARMEN!
This video is the second in our series featuring incredible smokers from Eastern Europe.
When it comes to smoking, Eastern Europe is what the rest of the world used to be like. Cigarettes are very cheap, smoking is allowed almost everywhere - and heavy and accomplished smoking is the norm, not the exception. And Lavinia and Carmen, both in their 20s, are two more great examples.
Lavinia regularly smokes 2-3 packs per day, but has smoked as much as six packs in a day. She shows her great style as she talks non-stop about her love of smoking and how she loves to play with her smoking when people are watching her in public, showing deep drags and a fabulous natural snap inhale, along with french inhales, thick mouth and nose exhales, and multiple (as many as eight) pumps.
Carmen was a late bloomer because of her very strict parents, but is making up for lost time - she regularly smokes 2-4 packs a day and now says she can't go much more than five minutes without a cigarette. She has a natural open-mouth inhale which shows itself often; and also does nose exhales and double drags, as well as her normal mouth exhales. Carmen talks about her smoking through about two-thirds of her segment, because at times she must speak through an interpreter.
You should know that this video was shot on location in Eastern Europe, with less-than-optimal equipment and lighting, so it doesn't have the "digital quality" look of our other recent releases. That is why the video capture samples look "different" than usual, and it's why we are offering this video at a lower price than usual.
However, the video and lighting are more than adequate to fully appreciate Lavinia and Carmen's personalities, love of smoking, and incredible smoking talent. If you are a fan of heavy-smoking women who are accomplished smokers, Lavinia and Carmen are waiting!
No sex or nudity. 52 minutes. SALE! NOW JUST $25.00!
TO ORDER THIS VIDEO ON DVD, CLICK HERE:
TO ORDER THIS VIDEO IN NTSC (US/CANADA) FORMAT, CLICK HERE:
TO ORDER THIS VIDEO IN PAL (EUROPE/ASIA/AUSTRALIA) FORMAT, CLICK HERE:
OR...
PURCHASE THIS VIDEO FOR IMMEDIATE DOWNLOAD, AT
Smoking Flicks!