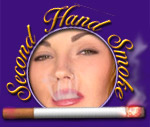 LEATHER GIRLS!
Three of our most popular models return, for a very hot video - all in leather!
The vid starts with two indoor scenes; first, we see Jessi in a fabulous leather two-piece outfit (plus leather boots), followed by Yuna in her leather jacket. Jessi and Yuna then each do "tough-girl" outdoor scenes with perfect natural lighting; Jessi in leather pants and jacket, along with sunglasses, a see-through top (and her pack tucked into her waistband!). Yuna chains and wolfs down two cigarettes in sunglasses, leather gloves and jacket. The vid ends with a short indoors scene with Andrea, in a hot leather bra and panties set (and her pack tucked into her panties!).
The smoking is terrific throughout. Jessi shows her naturally sexy style, with slight frenches and lots of dangles and clenches in addition to cone exhales; Yuna, probably the best smoker we've ever filmed, has lots of double (and a few triple) drags, with slow thick exhales, lots of nose exhales, and some extended hands-free smoking. Andrea shows her slight natural snap along with a lot of right-at-you thick exhales.
If you're into smokers in leather, this is a natural for you - but even if the leather doesn't matter, the smoking and lighting is fantastic. Don't miss this one!
No sex or nudity. 1 hour, 2 minutes. SALE! NOW JUST $25.00!
TO ORDER THIS VIDEO IN NTSC (US/CANADA) FORMAT, CLICK HERE:
TO ORDER THIS VIDEO IN PAL (EUROPE/ASIA/AUSTRALIA) FORMAT, CLICK HERE:
OR...
PURCHASE THIS VIDEO FOR IMMEDIATE DOWNLOAD, AT
Smoking Flicks!