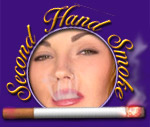 MELROSE GIRLS 1
Melrose Avenue in Hollywood is one of the trendiest places in America - the place to be seen and to see the sexiest young girls around. Almost all the girls who hang out on Melrose smoke - so we took to the streets in search of young sexy smokers who might just want to be Second Hand Smoke girls!
The first video in the series features several sexy Melrose girls. It starts with Babette, an 18-year old Marlboro Light chain smoker, with black hair and deep dark eyes. She confidently takes deep drags on her cigarettes, and lets thick plumes of smoke rush from her lips. Lauren is next, another beauty with black hair and lips that were built for smoking. She is 20, a two-pack-a-day smoker, and one of those girls who looks right at you as she deep hits her cigarettes and exhales thick streams. (She says she "loves to make eye contact" on the street with guys when she smokes, so she can see their reaction.) Some smoke rings in here as well.
Solid, sexy smoking by some very pretty young girls!
49 minutes. SALE! NOW JUST $25.00!
TO ORDER THIS VIDEO IN NTSC (US/CANADA) FORMAT, CLICK HERE:
TO ORDER THIS VIDEO IN PAL (EUROPE/ASIA/AUSTRALIA) FORMAT, CLICK HERE: