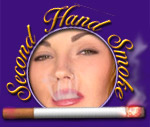 MERCEDES AND ALLIE: BETTER THAN ONE!
One more go-round for our sexy redhead, Allie - this time with her best friend,
Mercedes. And they prove that two hot female smokers are definitely better than one!
The two start by sitting, chatting and smoking - but they quickly move to more "interesting" activities, undressing each other as they smoke, sharing their cigarettes, and then playing sexually.
Allie and Mercedes each smoke non-stop, and they take turns servicing the other, first bathing their breasts and pussy with smoke, and then licking and using a vibrator on each other. The action is shown from four different angles - and the extended smoky girl-girl action, is red-hot!
Two sexy smokers - one great video!
Nudity and lesbian sexual activity. 1 hour, 52 minutes. SALE! NOW JUST $25.00!
TO ORDER THIS VIDEO ON DVD, CLICK HERE:
TO ORDER THIS VIDEO IN NTSC (US/CANADA) FORMAT, CLICK HERE:
TO ORDER THIS VIDEO IN PAL (EUROPE/ASIA/AUSTRALIA) FORMAT, CLICK HERE:
OR...
PURCHASE THIS VIDEO FOR IMMEDIATE DOWNLOAD, AT
Smoking Flicks!