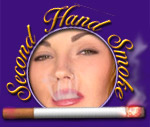 MIDNITE ISIS: SMOKIN' SEX!
Young porn star Midnite Isis may have needed some lessons in
girl-girl smoky sex (from Rubee Tuesday, in "Return of the Babysitter"),
but as you can tell from this video, she needs no help at all
when it comes to screwing her boyfriend while smoking!
The video opens with Isis chain-smoking on her couch.
Her boyfriend shows up and asks if she could possibly stop smoking
long enough to have sex - to which she answers that she's going to
keep smoking - but the sex sounds good!
Her boyfriend doesn't seem to mind, as the two get down
to business, going at it in multiple positions, as Isis smokes non-stop,
with deep drags and thick mouth exhales;
she doesn't even stop smoking as they both orgasm!
A sexy 18-year old chaining during hot sex -
enough said?
Nudity and sexual content.
Dialogue and ambient sound. 52 minutes. SALE! NOW JUST $25.00!
TO ORDER THIS VIDEO ON DVD, CLICK HERE:
TO ORDER THIS VIDEO IN NTSC (US/CANADA) FORMAT, CLICK HERE:
TO ORDER THIS VIDEO IN PAL (EUROPE/ASIA/AUSTRALIA) FORMAT, CLICK HERE:
OR...
PURCHASE THIS VIDEO FOR IMMEDIATE DOWNLOAD, AT
Smoking Flicks!