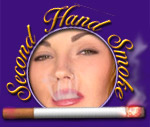 MEET NATASHA!
Natasha is one of those hot models who looks like the girl-next-door,
but also has a very kinky side!
This video opens with Natasha in casual clothes, having several cigarettes
while doing a nice "smoking interview" about when and how she started,
her smoking details, and so on.
We then see her kinkier side; Natasha has a weakness for fetish clothing -
corsets, PVC, leather - and she has several cigarettes while showing off a
black and red corset and skirt.
Natasha then switches to an even kinkier look,
with a PVC top, collar, spiked bracelets and a schoolgirl skirt. She has a number of
cigarettes while slowly exposing her breasts, and sensuously caressing and playing
with them, blowing smoke on them, and just plain enjoying herself.
The video finishes with Natasha topless and in a thong, along with
boots and of course, several more cigarettes!
Natasha's smoking style suits her personal style; nice inhales with
slow, sexy exhales, often stopping to play with the exhale, and occasionally
showing a nose exhale or a few rings. And she smokes VS 120s throughout -
again matching her style completely!
There are several outtakes included in this video
in which the camera shakes or a scene is started again,
but we have left them in so that you don't miss any of the smoking!
Partial nudity and sexual themes.
Some dialogue, along with ambient sound and some silence. 56 minutes. SALE! NOW JUST $25.00!
TO ORDER THIS VIDEO ON DVD, CLICK HERE:
TO ORDER THIS VIDEO IN NTSC (US/CANADA) FORMAT, CLICK HERE:
TO ORDER THIS VIDEO IN PAL (EUROPE/ASIA/AUSTRALIA) FORMAT, CLICK HERE:
OR...
PURCHASE THIS VIDEO FOR IMMEDIATE DOWNLOAD, AT
Smoking Flicks!