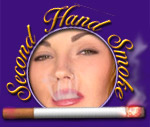 MISTRESS NAUDIA: SERIOUS SMOKER!
This is the first outing for real-life dominatrix, Mistress Naudia. It's a straightforward smoking video with no domination play or nudity, but you can clearly tell in her demeanor and style that she's a no-nonsense type of dominant smoker; her Bettie Page hairstyle, nose ring and tattoo gives the same impression.
Mistress Naudia smokes in two fetish-style outfits, one a studded leather corset with black skirt and fishnets, the other a pink mesh peasant blouse and skirt with a black corset and nylons. She smokes Marlboro Lights and Camel Filters with deep drags and primarily mouth exhales (a few nose exhales are mixed in); at times during the vid, she puts on makeup and reads, and talks for a while about how she started smoking, her work as a Dominatrix, and how she learned about the smoking fetish from clients who asked her to smoke.
If you have fantasies about Dominant women - or if you just appreciate attractive, serious smokers - check this one out!
No sex or nudity. 42 minutes.
SALE! NOW ONLY $25.00!
TO ORDER THIS VIDEO IN NTSC (US/CANADA) FORMAT, CLICK HERE:
TO ORDER THIS VIDEO IN PAL (EUROPE/ASIA/AUSTRALIA) FORMAT, CLICK HERE: