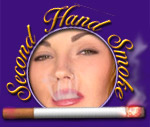 OUTTAKES
This video is compiled from the footage we had stockpiled...some really good stuff, but not enough of any one girl to create a separate video. You get Heather and Guenivere smoking, dancing and playing around at home; Joan and Karen auditioning for a future tape; Amber, with tons of smoke rings. When we watched the tape after it was done, even we were surprised with how much quality smoking there is on there - deep drags, thick exhales, snaps, rings, shotgun hits and smoke talk.
If you like variety and good smoking, then check this one out!
1 hour, 6 minutes. SALE! NOW JUST $25.00!
TO ORDER THIS VIDEO IN NTSC (US/CANADA) FORMAT, CLICK HERE:
TO ORDER THIS VIDEO IN PAL (EUROPE/ASIA/AUSTRALIA) FORMAT, CLICK HERE: