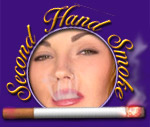 PAIGE: SEXY AND SMOKING!
Return with us to the days when young women knew how to smoke sexily,
and smoking was universally viewed as glamorous.
And meet Paige.
Of all the models we've smoked, Paige may have the best understanding
of the true nature of smoking. And it shows perfectly in this video.
The video opens with Paige, dressed casually, telling us all about
her smoking, focusing on why she thinks it's so sexy and why
she loves to smoke. Paige then changes into an elegant red top and
leather skirt, and demonstrates perfectly the art of seduction through smoking.
Paige's next scene is in a very sexy black leather catsuit, with
breasts exposed; she lightly touches herself as she smokes, again weaving
her web of smoke and seduction.
Paige has her own "fetishes" - one of them is for
mid-1900s pin-up models, particularly Bettie Page. Dressed in
vintage bra and panties and looking very much like a pin-up model herself,
she talks about the days of the pin-ups as she smokes sensually.
The video finishes with a bang, as Paige chains through two
cigarettes while dressed in black lingerie and gloves; after her first cigarette,
she drops her top and shows how a woman can truly be glamorous, classy
and sexy at the same time, as she smokes.
Paige is an accomplished smoker, and understands how
her smoking techniques add to her image. As she smokes her all-whites and 120s,
we see deep inhales, followed by many french inhales and nose exhales,
as well as a few smoke rings, throughout.
If you've ever fantasized of being out for the evening with
the ultimate sexy smoker - Paige is your dream girl!
Partial nudity. 1 hour, 1 minute. SALE! NOW JUST $25.00!
TO ORDER THIS VIDEO ON DVD, CLICK HERE:
TO ORDER THIS VIDEO IN NTSC (US/CANADA) FORMAT, CLICK HERE:
TO ORDER THIS VIDEO IN PAL (EUROPE/ASIA/AUSTRALIA) FORMAT, CLICK HERE:
OR...
PURCHASE THIS VIDEO FOR IMMEDIATE DOWNLOAD, AT
Smoking Flicks!