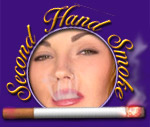 SMOKING PICKUP!
You keep telling us like to see smoking porn stars -
so here are two of them!
"Smoking Pickup" features porn stars Lena Ramon and Eva Lux.
The video opens as they come home to Eva's apartment, after she
picked Lena up at a club --- the two hooked up because they both smoke,
and because they each love smoking women!
As the pair smokes non-stop, we see them shotgunning and
swapping smoke and kisses, then move on to blowing smoke on
each others' breasts and pussies, giving smoky oral sex,
and doing each other with a strap-on dildo!
Lena's smoking is good throughout, with nice inhales,
cone exhales and a few nose exhales. Eva loves to watch her
smoke, so she wafts a lot before inhaling, but as you watch
the video you can tell that she doesn't just show off, she inhales as well.
And the sex is hot - you can tell as you watch that this isn't just
a performance, these two really are into each other!
This is a very steamy and smoky vid!
Nudity and sexual content. 42 minutes. SALE! NOW JUST $25.00! Note: the cameras were a bit difficult that day so there is very occasional pixellation
at a few points in the video, but nothing that will hamper your enjoyment.
TO ORDER THIS VIDEO ON DVD, CLICK HERE:
TO ORDER THIS VIDEO IN NTSC (US/CANADA) FORMAT, CLICK HERE:
TO ORDER THIS VIDEO IN PAL (EUROPE/ASIA/AUSTRALIA) FORMAT, CLICK HERE:
OR...
PURCHASE THIS VIDEO FOR IMMEDIATE DOWNLOAD, AT
Smoking Flicks!