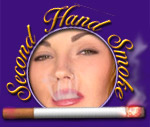 RUBY: CIGAR SMOKING TEEN DREAM
Ruby is a Texas girl who loves to smoke cigars, who contacted us and asked if she could be a Second Hand Smoke Girl. After seeing how she handled cigars of all shapes and sizes, we knew she had what it takes.
The video opens with Ruby in Levi's and a bra, dancing and powering through a nice sized Macanudo with total attitude: big open mouth exhales, and lots of smoky, oozy exhales - she also loves to blow rings! She gets closer and more personal, so you can see her lips wrapping around the cigar and almost see the smoke entering her mouth as she pulls hard on the Macanudo (she says she "loves letting the smoke linger in her mouth as she savors the taste"). Ruby also lets you in on how she started smoking and what it means to her. Different outfits follow, with lots more open mouth exhales and rings, as she totally enjoys her smoke.
Next, she brings out her Swisher Sweets and smokes one after the other, both indoors and outdoors, in several different outfits. Again, there are countless scenes of Ruby playing with her smoke, blowing rings, and showing total attitude and obvious love of the smoke.
If you love the idea of a sexy young cigar smoker, this tape is a must!
1 hour, 50 minutes. SALE! NOW JUST $25.00!
TO ORDER THIS VIDEO IN NTSC (US/CANADA) FORMAT, CLICK HERE:
TO ORDER THIS VIDEO IN PAL (EUROPE/ASIA/AUSTRALIA) FORMAT, CLICK HERE: