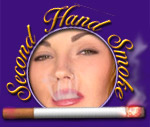 RUBY: PIPE DREAMS
Here she is again - the Texas girl who loves to smoke - this time with a pipe! It's a classic style bowl, and a perfect size for her.
We watch Ruby smoking her pipe, in her bedroom and wearing a variety of casual sexy outfits, for more than an hour. Again, she loves playing with her smoke, so we see lots of french inhales, smoke rings, open mouth exhales and thick wafts. Multiple pumps are also common, as she smokes bowl after bowl, showing off her thick mouthfuls of smoke, as always with fabulous attitude.
There aren't many videos of sexy young smokers with pipes out there, so this is a must-own if you're into girls and pipes; and if you haven't thought about female pipe-smoking before, you won't believe how sexy it can be!
1 hour, 6 minutes. SALE! NOW JUST $25.00!
TO ORDER THIS VIDEO IN NTSC (US/CANADA) FORMAT, CLICK HERE:
TO ORDER THIS VIDEO IN PAL (EUROPE/ASIA/AUSTRALIA) FORMAT, CLICK HERE: