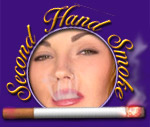 THE SMOKE HUNTER: EPISODE 1!
We're very pleased to release the first episode in a new
series filmed exclusively for Second Hand Smoke:
The Smoke Hunter!
The "smoke hunter" is adult film hall-of-famer Rod Fontana,
who (as you may have learned in an earlier SHS release) also
happens to love smoking women. And in this series, he
goes out to, as he puts it, "find smoking women, bring them
home - and fuck them while they smoke!"
And the series starts out with a bang - in episode one,
Rod hooks up with porn star Liza Hunter. She's not only a beauty.
but she's originally from France, so you know she can smoke!
And she shows it in this vid, with a natural open-mouth inhale,
as well as great cone exhales, dangles and a few nose exhales
and multiple pumps as well.
The video starts with Rod explaining to Liza how much
he loves smoking women - they talk a little about her smoking while
he watches her - and then the real action starts. Oral sex, hardcore in
several different positions, and a messy finish, all while
Liza chain-smokes Marlboro 100s and shows her great style!
We know some people are skeptical of "smoking porn stars,"
and it's true, many of them don't live up to everyone's expectations.
But as you'll see here - Liza ranks among the best smokers around!
We think this is the finest hardcore smoking video we've
ever released - and it's only episode one!
Nudity and sexual content. 40 minutes. SALE! NOW JUST $25.00!
TO ORDER THIS VIDEO ON DVD, CLICK HERE:
TO ORDER THIS VIDEO IN NTSC (US/CANADA) FORMAT, CLICK HERE:
TO ORDER THIS VIDEO IN PAL (EUROPE/ASIA/AUSTRALIA) FORMAT, CLICK HERE:
OR...
PURCHASE THIS VIDEO FOR IMMEDIATE DOWNLOAD, AT
Smoking Flicks!