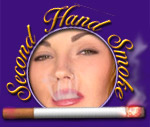 THE SMOKE HUNTER: EPISODE 2!
The Smoke Hunter is back!
The "smoke hunter" is adult film hall-of-famer Rod Fontana,
who also happens to love smoking women. And in this series, he
goes out to, as he puts it, "find smoking women, bring them
home - and fuck them while they smoke!"
And in episode two, Rod takes home porn star Desire Moore, a
very sexy blonde smoker. This video opens with Rod eliciting a little information
about Desire's smoking history as he watches her - and then they get down to it.
Desire chains while receiving and giving oral sex, and then during
hardcore action (two different positions) leading up
to an oral, smoky conclusion!
Desire takes full inhales and while we see some cone exhales,
she prefers to let the smoke ooze out slowly - leading Rod to coach her
through some french inhales, even as they're having sex!
And there's some hot bonus footage at the end, showing what
will happen in episode three - when Rod decides to get his two
smoky conquests together!
Nudity and sexual content. 40 minutes. SALE! NOW JUST $25.00!
TO ORDER THIS VIDEO ON DVD, CLICK HERE:
TO ORDER THIS VIDEO IN NTSC (US/CANADA) FORMAT, CLICK HERE:
TO ORDER THIS VIDEO IN PAL (EUROPE/ASIA/AUSTRALIA) FORMAT, CLICK HERE:
OR...
PURCHASE THIS VIDEO FOR IMMEDIATE DOWNLOAD, AT
Smoking Flicks!