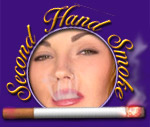 THE SMOKE HUNTER: EPISODE 3!
The Smoke Hunter is back, and he's brought both of
his conquests with him!
The "smoke hunter" is adult film hall-of-famer Rod Fontana,
who also happens to love smoking women. And in this series, he
goes out to, as he puts it, "find smoking women, bring them
home - and fuck them while they smoke!"
In episode three, Rod decides that once was not quite
enough for porn stars Desire Moore and Liza Harper - he needs to
see more of them. So he brings them together, for a smoky
girl-girl session - while he watches off-camera!
Liza and Desire smoke throughout (alternating cigarettes
most of the time) while touching, kissing, licking - and then moving on
to an incredible session of smoky oral and vibrator sex with two
noisy finishes!
Desire's smoking is good (with lots more visible exhales
than in the last outing) -and Liza shows her fabulous French style once
again, along with an incredibly sexy attitude. And if you like to see
breasts and pussies bathed in smoke - this one is really something to see!
Hot, nasty, smoky girl-girl sex --- what more could you want?
Nudity and sexual content. 44 minutes. SALE! NOW JUST $25.00!
TO ORDER THIS VIDEO ON DVD, CLICK HERE:
TO ORDER THIS VIDEO IN NTSC (US/CANADA) FORMAT, CLICK HERE:
TO ORDER THIS VIDEO IN PAL (EUROPE/ASIA/AUSTRALIA) FORMAT, CLICK HERE:
OR...
PURCHASE THIS VIDEO FOR IMMEDIATE DOWNLOAD, AT
Smoking Flicks!