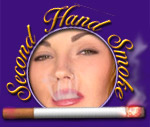 THE SMOKE HUNTER: EPISODE 4!
The Smoke Hunter is back, for a whole new round of
sex with smoking women!
The "smoke hunter" is adult film hall-of-famer Rod Fontana,
who also happens to love smoking women. And in this series, he
goes out to, as he puts it, "find smoking women, bring them
home - and fuck them while they smoke!"
In episode four, Rod finds a sexy blonde who happens to
be an outstanding smoker - porn star Sindy Lange. And he puts her
through the full workout - first finding out a little about her smoking,
then moving on to oral sex, doggie and missionary, before a
messy finish!
Sindy's smoking is terrific, with deep inhales and thick
cone exhales - she even manages to toss off some smoke rings
in the middle of some of the action!!
The Smoke Hunter has done it again!
Nudity and sexual content. 42 minutes. SALE! NOW JUST $25.00!
TO ORDER THIS VIDEO ON DVD, CLICK HERE:
TO ORDER THIS VIDEO IN NTSC (US/CANADA) FORMAT, CLICK HERE:
TO ORDER THIS VIDEO IN PAL (EUROPE/ASIA/AUSTRALIA) FORMAT, CLICK HERE:
OR...
PURCHASE THIS VIDEO FOR IMMEDIATE DOWNLOAD, AT
Smoking Flicks!