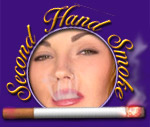 THE SMOKE HUNTER: EPISODE 5!
The Smoke Hunter returns with another conquest!
The "smoke hunter" is adult film hall-of-famer Rod Fontana,
who also happens to love smoking women. And in this series, he
goes out to, as he puts it, "find smoking women, bring them
home - and fuck them while they smoke!"
In episode five, Rod's discovery is sultry porn star Trista Post. And after
the initial "interview," Trista shows her acrobatic side, with hot,
smoky sex in four different positions!
Trista is a solid smoker, with deep inhales and nice, thick
mouth exhales, and the harder she works it, the deeper the
drags and thicker the exhales!
It's another smoky sex fest from the Smoke Hunter!
Nudity and sexual content. 46 minutes. SALE! NOW JUST $25.00!
TO ORDER THIS VIDEO ON DVD, CLICK HERE:
TO ORDER THIS VIDEO IN NTSC (US/CANADA) FORMAT, CLICK HERE:
TO ORDER THIS VIDEO IN PAL (EUROPE/ASIA/AUSTRALIA) FORMAT, CLICK HERE:
OR...
PURCHASE THIS VIDEO FOR IMMEDIATE DOWNLOAD, AT
Smoking Flicks!