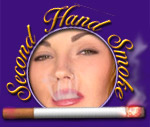 THE SMOKE HUNTER: EPISODE 6!
The Smoke Hunter returns to have two of his conquests
go at it with each other!
The "smoke hunter" is adult film hall-of-famer Rod Fontana,
who also happens to love smoking women. And in this series, he
goes out to, as he puts it, "find smoking women, bring them
home - and fuck them while they smoke!"
In episode six, Rod brings back conquests (and porn stars) Sindy Lange
and Trista Post - and watches as the two of them have smoky girl-girl sex!
The video opens with both girls showing off their smoke rings as they
touch, kiss and lick - followed by sucking and vibrator/dildo action, both on each
other and then on themselves, side-by-side, to noisy finishes!
Both Sindy and Trista are strong smokers with deep exhales and thick exhales,
and they are fed cigarette after cigarette by the Hunter, until they share
one final cigarette as they work themselves to their finish.
The Smoke Hunter has done it again!
Nudity and lesbian sex. 50 minutes. SALE! NOW JUST $25.00!
TO ORDER THIS VIDEO ON DVD, CLICK HERE:
TO ORDER THIS VIDEO IN NTSC (US/CANADA) FORMAT, CLICK HERE:
TO ORDER THIS VIDEO IN PAL (EUROPE/ASIA/AUSTRALIA) FORMAT, CLICK HERE:
OR...
PURCHASE THIS VIDEO FOR IMMEDIATE DOWNLOAD, AT
Smoking Flicks!