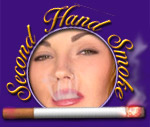 SHANNON KELLY: ELEGANT AND NASTY!
You've probably seen Shannon Kelly before -
whether it's been on the cover of a fitness magazine, a car magazine,
or in the Playboy Playmate Search.
But from our perspective, none of her other apperances
do justice to this petite, well-built model.
That's because she's one of the most accomplished,
feminine smokers we've ever seen ---
she'd fit right in, in the glory days of female smoking elegance.
Shannon will only smoke Slims or Capris because they're "so feminine" -
and her style is elegant and exquisite, with open-mouth inhales,
snap inhales, or french inhales on almost every drag,
followed by thick, luxurious cone or nose exhales.
But Shannon has her nasty side as well;
she loves to get naked, and loves to play on camera -
while smoking, of course!
We see both sides of Shannon in this video.
First, the elegant side, as she enjoys several cigarettes with a glass of wine,
and then models her sexy lingerie in front of a mirror.
Then, her nasty side comes out, as she does a strip tease for us,
and then does two steamy masturbation scenes - one manual, and
one with a vibrator.
But even when Shannon is pleasuring herself, we still see
her exquisite smoking style on display - it's the best of both worlds!
Shannon is truly your dream smoking girl - don't miss this performance!
Nudity and sexual content. 48 minutes. SALE! NOW JUST $25.00!
TO ORDER THIS VIDEO ON DVD, CLICK HERE:
TO ORDER THIS VIDEO IN NTSC (US/CANADA) FORMAT, CLICK HERE:
TO ORDER THIS VIDEO IN PAL (EUROPE/ASIA/AUSTRALIA) FORMAT, CLICK HERE:
OR...
PURCHASE THIS VIDEO FOR IMMEDIATE DOWNLOAD, AT
Smoking Flicks!