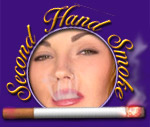 SMOKING SURPRISE!
After porn stars Lena Ramon and Eva Lux finish their
steamy, smoky encounter in "Smoking Pickup," one of them promises
the other that she has a surprise on the way.
And the "surprise" arrives in this video, in the person of
Rod Fontana, who happens to be a guy who loves smoking women!
And to no one's surprise, the three immediately plunge into
another round of smoky sex - a threesome!
Lena and Eva smoke non-stop, as we see them
in almost every imaginable combination with their admirer;
they swap smoke, lick and touch each other, as they give
Rod some smoky oral sex and engage in lots of three-way
positions as well!
Lena's smoking is good, with nice inhales and
cone exhales. Eva loves to watch her smoke, so she wafts a lot
before inhaling, but as you watch the video you can tell that she
doesn't just show off, she inhales as well.
And the sex is extremely hot and nasty throughout!
Two hotties who not only love smoking - but love
showing off for an admirer as they have a nasty threesome -
it doesn't get much better!
Nudity and sexual content. 41 minutes. SALE! NOW JUST $25.00!
TO ORDER THIS VIDEO ON DVD, CLICK HERE:
TO ORDER THIS VIDEO IN NTSC (US/CANADA) FORMAT, CLICK HERE:
TO ORDER THIS VIDEO IN PAL (EUROPE/ASIA/AUSTRALIA) FORMAT, CLICK HERE:
OR...
PURCHASE THIS VIDEO FOR IMMEDIATE DOWNLOAD, AT
Smoking Flicks!