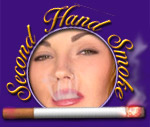 TABITHA BANKS: ORAL SHOTS!
Tabitha Banks is an up-and-coming porn star -
pretty soon, porn fans will be seeing her in a number of
new mainstream releases. But we've got her now!
The vid starts with Tabitha having a cigarette,
impatiently waiting for her boyfriend, for their planned game of pool.
When he shows, they decide to up the stakes - if Tabitha loses,
she'll have to give him smoky oral sex. And after a match
with lots of great smoking on display, thankfully, Tabitha loses!
What follows is a great smoking blow job, as
Tabitha chain-smokes while finally bringing her guy
to a very messy finish!
The action is shown from several angles, including lots of
close-ups. And Tabitha's smoking is first rate, with lots of slow, thick exhales,
nose exhales, mini-frenches, and dangles during the game of pool.
And we're not sure whether her smoking, or her smoky oral sex,
is more worth watching!
Nudity and sexual content. 44 minutes. DVD: $40.00. VHS videotape: SALE! NOW JUST $25.00!
TO ORDER THIS VIDEO ON DVD, CLICK HERE:
TO ORDER THIS VIDEO IN NTSC (US/CANADA) FORMAT, CLICK HERE:
TO ORDER THIS VIDEO IN PAL (EUROPE/ASIA/AUSTRALIA) FORMAT, CLICK HERE:
OR...
PURCHASE THIS VIDEO FOR IMMEDIATE DOWNLOAD, AT
Smoking Flicks!