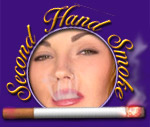 VENUS: GLAM SMOKER
Venus is a "rock star in waiting" - with a band that is doing very well - so this video could eventually be a collectors item! As a successful model as well, she is all about style and glamour: she loves to pose and she loves to smoke.
She starts off in an interview segment (while smoking, of course), telling us all about how she started, why she loves smoking, and how she has always made smoking a part of her life for as long as she can remember. And then comes the performance - as Venus shows off her 5-11 body in short shorts and glittery top. She smokes with style, and her exhales are works of art as she pops a little smoke before her inhale; she's an expert french inhaler as well.
In the next segment, Venus dolls it up in a Britney Spears send up: a cool little Catholic schoolgirl outfit and pigtails add to the look, as she reads all about Britney and decides to "rebel" against her teen idol. It's a funny and sexy bit. with lots of great smoking.
Finally, we see some hot moves as Venus smokes while dancing, before taking off her top, rolling on the floor, glamming it up and smoking to her heart's content.
This is the ultimate video showing what an LA "glam girl" is really like - sexy outfits, sexy lingerie, and sexy smoking - it's hot!
Nudity. 44 minutes. SALE! NOW JUST $25.00!
TO ORDER THIS VIDEO IN NTSC (US/CANADA) FORMAT, CLICK HERE:
TO ORDER THIS VIDEO IN PAL (EUROPE/ASIA/AUSTRALIA) FORMAT, CLICK HERE: