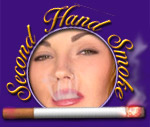 YAZMIN: DIRTY BLONDE!
Blonde Yazmin is Second Hand's latest model, and if you like blonde, full-figured women who like to get nasty, you'll enjoy this one!
The video starts with Yazmin smoking in a dress, and then topless; we watch her deep inhales and straight mought exhales from several different angles.
But then,Valerie stops by to help Yazmin with her smoking style, and gives her some lessons - teaching her snaps, french inhales and dangles as they sit topless and talk.
Yazmin learns quickly, and then gets back to business, touching herself above and below as she smokes, and then pulling out a vibrator, as she pleasures herself with both the toy and her fingers while smoking, and, unbelivably, showing us some of her newly-learned frenches and dangles while she's masturbating, again shown from a number of angles.
We're not sure who'll get hotter, Yazmin or you!
Nudity and sexual content. 1 hour, 17 minutes.
SALE! NOW JUST $25.00!
TO ORDER THIS VIDEO IN NTSC (US/CANADA) FORMAT, CLICK HERE:
TO ORDER THIS VIDEO IN PAL (EUROPE/ASIA/AUSTRALIA) FORMAT, CLICK HERE: